Psychological Considerations for Supporting Pregnant and Postpartum Clients and Their Families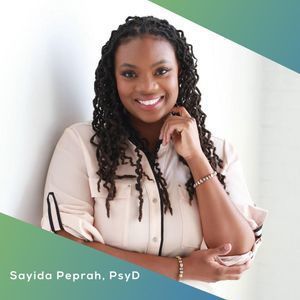 Join CPI for an important presentation from Sayida Peprah, PsyD. about how we can support pregnant and postpartum clients and their families.
This presentation will focus on increasing the awareness of participants regarding perinatal/postpartum mood and anxiety disorders (PMADs) and practical skills to support pregnant and postpartum persons. During this presentation, maternal suicide research findings and recommendations for providing care and support to individuals with elevated risks or presentation of mental health concerns, will be offered. Cultural considerations and strength-based interventions will be highlighted.
Learning Objectives
By the end of this presentation, participants will be able to:
1. Identify risk factors for perinatal/postpartum mood and anxiety disorders
2. List screening protocols to assess for perinatal/postpartum mood and anxiety disorders
3. Develop support strategies for pregnant and postpartum clients at-risk of PMADs
Course meets qualifications for 2 hours of continuing education credit for LMFTs and LCSWs as required by the California Board of Behavioral Sciences (provider #128510).
Individuals with disabilities who require accommodations to participate in this training should contact Tony Alioto at tony.alioto@cirinc.org or (707) 512-0957. Requests must be received by: Monday, May 9, 2022 The Center for Innovation and Resources, Inc. (CIR) is approved by the California Association of Marriage and Family Therapists to sponsor continuing education for LMFTs and LCSWs. CIR maintains responsibility for this program/course and its content. All attendees will receive a Certificate of Attendance. Participants may apply for continuing education credits (CEUs) at the event. Certificates for CEUs will be mailed to participants within two weeks following the event.
Our Presenter
Dr. Sayida Peprah is both a licensed clinical psychologist and trained birth doula. She specializes in multicultural psychology, trauma, suicide prevention and maternal mental health. Dr. Sayida has a multi-faceted career as a psychologist having worked in community-based, in-home, psychiatric hospital, correctional and private practice settings. She is also a trainer and consultant on topics of cultural humility, implicit bias and trauma as they impact mental and maternal health. Dr. Sayida is the Founder and Executive Director of the non-profit organization Diversity Uplifts, Inc.
Thank you to our sponsor, First 5 Sonoma County for supporting this event!