Careers
As one of the North Bay Business Journal's Best Places to Work, CPI is a great place to build your skill set and advance your career in social work, child welfare, and mental health services. 
When you work for the North Bay's leading nonprofit on parenting and children's mental health, balancing work and family doesn't feel like a solo act.  At Child Parent Institute, we value the health and well-being of our staff, which is why we provide a generous benefits package and every employee has access to free parenting classes.   Many of our positions allow for flexible work schedules. We believe in supporting our team's professional development goals and many of our entry-level positions offer opportunities for advancement. If you're passionate about helping families, browse our openings or upload your resume and tell us your interests.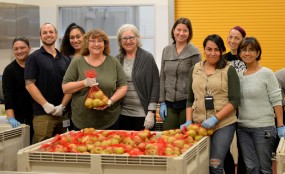 CPI Service Day 2018
Positions Available
Special Education Teachers provide students who are severely emotionally disturbed an instructional program based on student time on task and encompassing mastery learning theory. This is a full-time, school-year position with full benefits.

This position provides referrals and assistance in navigating available community services and provides psychoeducation as a means of prevention and self-sufficiency. This position provides support services to high-risk Sonoma County families referred to us by Family Youth & Children Services. This is a full-time position (40 hours per week) with full benefits.

The Engagement Specialist serves as the initial contact person for all client families referred for prevention services by Sonoma County's Family Youth & Children division. The Engagement Specialist meets with families and conducts the initial intake and needs assessment interview with particular attention to client priorities for service, then recommends an appropriate case management plan. This is a full-time position (40 hours per week) with full benefits.

The Principal serves as chief educational administrator for New Directions School and leader of trauma-informed educational services. The Principal is responsible for developing and implementing policies, programs, and budgets in a manner that promotes the development of each student and the professional development of each staff member.