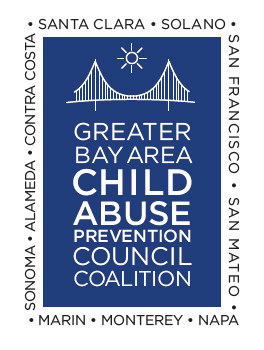 ABOUT THE GREATER BAY CHILD ABUSE PREVENTION COUNCIL COALITION
For over 30 years Child Abuse Prevention Councils have led the way in building awareness, providing education and inspiring hope in the effort to prevent child abuse and neglect in every county in California. The Greater Bay Area Child Abuse Prevention Council Coalition represents ten counties coordinating resources, advocating for public policy, producing conferences and trainings and sharing best practices.
Each of the ten Child Abuse Prevention Councils in this coalition is a resource and referral agency. The councils work with public and private agencies to prevent child abuse. We also hold free mandated reporter trainings throughout the Bay Area.
Child Abuse Prevention Councils are made up of professionals, volunteers, donors and parents who are actively preventing child abuse and neglect.
Contact your county to find out how to get involved! Together we can make a difference.
To Report Child Abuse:
510-259-1800

Child Abuse Prevention Council:
510-780-8989

Parent Support Hotline:
1-800-829-3777

To Report Child Abuse:
877-881-1116

Child Abuse Prevention Council:
925-798-0546

To Report Child Abuse:
415-473-7153

Child Abuse Prevention Council:
707-585-6108 ext. 1101
or 415-668-0494

Monterey

To Report Child Abuse:
831-755-4661

Child Abuse Prevention Council:
831-755-4474

To Report Child Abuse:
707-253-4261

Child Abuse Prevention Council:
707-252-1123

To Report Child Abuse:
415-558-2650

Child Abuse Prevention Council:
415-668-0494

TALK Line: 415-441-KIDS

To Report Child Abuse:
650-802-7922

24 Hour Parent Stress Warmline:
888-220-7575

To Report Child Abuse:
833-722-5437

To Report Child Abuse:
800-544-8696

Solano Children's Alliance/ Child Abuse
Prevention Council:
707-421-7229

To Report Child Abuse:
707-565-4304 or 800-870-7064

Prevent Child Abuse Sonoma County:
707-585-6108 ext. 1101
---
Meet our coalition members
Alameda representative: Marcy Takeuchi

Marcy is Child Abuse Prevention Services Coordinator at Alameda County Social Services/Department of Child and Family Services. Marcy has years of experience serving the children of Alameda County.

Contra Costa representative: Carol Carrillo

Carol Carrillo has served as Executive Director of the Child Abuse Prevention Council of Contra Costa (CAPC), since April of 1999, and has led CoCoCAPC in their mission to raise community awareness on the issues of child abuse and neglect and implement programs, publications and services that prevent the maltreatment of children. She holds a master's degree in Social Work from Washington University in St. Louis and a postgraduate certificate in Human Service Administration from San Francisco State University. She has developed and managed treatment foster care programs, in-home family support programs, and child advocacy programs, and has worked in the field of child welfare for over 25 years.

Monterey representative: David Maradei

David is Director of Child Abuse Prevention Council for Monterey County (2000 to present), and current Chair of the Greater Bay Area CAPC Coalition. He is Past Chair of the Juvenile Justice Commission for Monterey County and Co-Chair of the Child Death Review Team for Monterey County. He is also a member of Children's Council for Monterey County (2002-present), the Community Alliance for Safety and Peace (2008-present), the Child Advocacy Center Quality Assurance Committee at Natividad Hospital (2000-present), Juvenile Sex Offender Response Team MDIC (2007-to present), and Monterey Community Collaborates (Traffic and Tobacco) (2004-present). He trains on Mandated Reporting, Adverse Childhood Experiences through Safe from the Start, and with the Early Childhood Development Program under Dr. Bruce Perry.

Napa representative: Michele Grupe

Michele Grupe, CFRE, is Executive Director of Cope Family Center, Napa County's flagship family resource center in downtown Napa. In this role, she is responsible for the daily operations of the 46-year-old community benefit organization. She and her team of 30 staff members work closely with the Cope Board of Directors, and agency volunteers to fulfill the organization's mission to empower parents, nurture children and strengthen communities. Prior to joining the Cope team in 2004 as the Associate Director, Michele worked at Lincoln Child Center in Oakland and Youth Homes Inc. in Contra Costa County. Michele is a Commissioner and former Chair of First 5 Napa, Vice Chair of the Napa Valley COAD (Communities Operating Actively in a Disaster), Co-chair of the Child Abuse Prevention Council of Napa County, founding member of the Community Leaders Coalition and member of the State Office of Child Abuse Prevention's Citizens Review Panel.

San Francisco and Marin representative: Katie Albright

Katie Albright, JD, (CE0 + President) joined Safe & Sound eleven years ago, when it was called the San Francisco Child Abuse Prevention Center. Safe & Sound is a children's advocacy organization working in San Francisco for more than 45 years to strengthen families and end child abuse. Katie's prior experiences include SF Deputy City Attorney representing our public schools; SF Education Fund Policy Director leading a campaign to improve teacher quality and increase student retention; and, Preschool California Co-Director of Policy & Outreach campaigning statewide for universal preschool. Katie actively serves on local and national, non-profit and government boards and commissions. She received an Ascend Fellowship from The Aspen Institute and Social Entrepreneurship Fellowship at Stanford University. Katie graduated with honors from Georgetown University Law Center and Williams College.

San Mateo representative: Janay Eustace

Janay is a Sacramento State University Graduate where she received a Master of Social Work Degree and serves as a Clinical Social Worker in the Sacramento Community. She helped implement the California Fostering Connections to Success Act, and worked for California Youth Connection as a volunteer and employee for many years in many different roles. She also worked for the California Welfare Director's Association, working closely with California's county child welfare agencies in legislation. Janay has worked as a Sacramento County Child Protective Services Social Worker and for the California Department of Social Services. A former foster youth, she is a dedicated advocate and speaker for child welfare and was recognized and awarded by California State University, Sacramento as a Raising Star Distinguished Alumni.

Santa Clara representative: Jane Smithson

Jane Smithson has practiced law since 1977 with an emphasis on Juvenile Dependency and Delinquency. As a member of San Mateo County's Private Defender Program she has represented thousands of minors in 602 cases and both children and parents in Dependency matters. She was honored by Child Advocates of Santa Clara and San Mateo Counties in 1999 for her work in championing the rights of children who have been neglected or abused. In 2003 she left the practice of law to become a consultant to San Mateo County's Human Services Agency on Child Welfare Redesign. She has coordinated Independent Living Skills Classes for Foster Youth at the Community Colleges, taught Parenting Classes through the YWCA in San Jose, and has served as the Co-Chair of the San Mateo County Child Abuse Prevention Council. She teaches Mandated Child Abuse Reporting in Santa Clara and San Mateo Counties.

Solano representative: Susan Ferdinandi

Susan is Community Programs Coordinator at Children's Network of Solano County. Prior to her work there, she served as coordinator of the Family Resource Center in Benicia and as an educator in Contra Costa County.

Sonoma and Marin representative: Robin Bowen

Robin Bowen has been working for over 35 years in the field of child abuse prevention as the Executive Director of the Child Parent Institute in Santa Rosa. Robin is actively involved in both local and regional advocacy efforts on behalf of children and families. She convenes the local Child Abuse Prevention Council in both Sonoma and Marin Counties. She has championed innovative and efficient services to meet the needs of vulnerable and underserved families. This has resulted in increased collaborations with community organizations and a comprehensive expansion of CPI's programs to offer prevention, intervention and therapeutic supports when needed.

Coalition coordinator: Kris Murphey

Kris is glad to serve as Coalition Coordinator through the Center for Innovation and Resources (CIR). She has more than two decades of experience working with child abuse prevention, intervention and treatment organizations throughout the state of California.