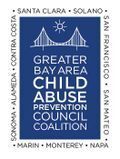 ABOUT THE GREATER BAY CHILD ABUSE PREVENTION COUNCIL COALITION
For over 30 years Child Abuse Prevention Councils have led the way in building awareness, providing education and inspiring hope in the effort to prevent child abuse and neglect in every county in California. The Greater Bay Area Child Abuse Prevention Council Coalition represents ten counties coordinating resources, advocating for public policy, producing conferences and trainings and sharing best practices.
Each of the ten Child Abuse Prevention Councils in this coalition is a resource and referral agency. The councils work with public and private agencies to prevent child abuse. We also hold free mandated reporter trainings throughout the Bay Area.
Child Abuse Prevention Councils are made up of professionals, volunteers, donors and parents who are actively preventing child abuse and neglect.
Contact your county to find out how to get involved! Together we can make a difference.
To Report Child Abuse:
510-259-1800

Child Abuse Prevention Council:
510-780-8989

Parent Support Hotline:
1-800-829-3777

To Report Child Abuse:
877-881-1116

Child Abuse Prevention Council:
925-798-0546

To Report Child Abuse:
415-473-7153

Child Abuse Prevention Council:
707-585-6108 ext. 1101
or 415-668-0494

Monterey

To Report Child Abuse:
831-755-4661

Child Abuse Prevention Council:
831-755-4474

To Report Child Abuse:
707-253-4261

Child Abuse Prevention Council:
707-252-1123

To Report Child Abuse:
415-558-2650

Child Abuse Prevention Council:
415-668-0494

TALK Line: 415-441-KIDS

To Report Child Abuse:
650-802-7922

24 Hour Parent Stress Warmline:
888-220-7575

To Report Child Abuse:
833-722-5437

To Report Child Abuse:
800-544-8696

Solano Children's Alliance/ Child Abuse
Prevention Council:
707-421-7229

To Report Child Abuse:
707-565-4304 or 800-870-7064

Prevent Child Abuse Sonoma County:
707-585-6108 ext. 1101
---
Meet our coalition members