Marin Child Abuse Prevention Council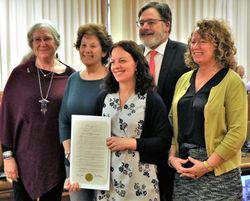 The Marin Child Abuse Prevention Council helps prevent child abuse through community education, training, and promotion of policies and services that help support families and children.
---
We Need Your Help Keeping Children Safe
(Report 24-hours/seven days a week Marin County CFS Hotline: (415) 473-7153.)
Children not being in consistent contact with service providers, schools, and other professionals creates barriers to reporting abuse. 
In times of crisis and economic instability, child abuse and neglect rates increase. However, reports of child abuse and neglect in Marin County have declined
during this crisis. The ability to speak up for children's safety is crucial at this time.
To report effectively, explain how family dynamics or parent's behavior directly results in abuse or neglect to the child or otherwise has impacted the child.
For example, a parent can suffer from a mental health condition or have a drug or alcohol problem, but if possible, obtain information on how this impacted the child's safety, caused an injury, or resulted in neglect issues. If a child reports being hit, ask when it happened, where on the body they were hit, what they were hit with, and if there are marks, injuries or bruises.
If there are "red flags" but not quite enough to report, welfare checks are available through the local law enforcement agencies. Call your city's law enforcement non-emergency number, and ask for a welfare check, citing concerns about a child's well-being.
Report 24-hours/seven days a week Marin County CFS Hotline: (415) 473-7153