April is Child Abuse Prevention Month! See events throughout the region
---
GBA CAPC Coalition Co-Presents: Educate, Inspire, Support Training Series
In partnership with California Parent Institute and other wonderful organizations, the Greater Bay Area Child Abuse Prevention Council Coalition is happy to announce our Educate, Inspire, Training series for 2020-2021. All events are free and open to the public.
Speakers will include: 
Elizabeth Vermilyea, Ph.D. on Helping Everyone Every Time: Risking Connection (Thursday, October 29, 2020 at 3:30 pm)
Erin Runnion on Protecting Children: During & Beyond COVID (Thursday, November 19, 2020 at 3:30 pm)
Azim Khamisa on Leadership for the Greater Good (Tuesday, December 8, 2020 at 3:30 pm)
and many more!
For more information and registration, go to https://calparents.org/speakerseries/speakerseries.html
---
Confronting Inequality Together
The Greater Bay Area Child Abuse Prevention Council (GBA CAPC) Coalition is committed to being an accountable and supportive ally in systematically eliminating structural racism and inequities faced by children and families in our region. 
We recognize the traumatic effects of racism on Black families; it is real and cannot be ignored. We want to state now, unequivocally, that Black Lives Matter and Black Trauma Matters.
As parents and community members, we grieve for the mothers and fathers who have mourned the unjust deaths of their Black and Brown children, young and grown. As we grieve as a nation, we must confront that the very systems we helped build and operate have enabled — and far too often exacerbated — structural inequities.
In 2020, in addition to the COVID-19 pandemic, families are facing the closing of child-care facilities and businesses, resulting in the loss of support and income. More urgently than ever, our families need us to help them stay safe and grow strong. Whatever circumstances bring parents and caregivers through our doors, we vow to recognize their inherent strengths and help them overcome the challenges they face.
We must now confront the systems we have created that yield the inequality we are seeing — from education to child welfare; from health care to our justice system; from housing to the economy. We must talk about the disparities that children of color face: being removed from their families and placed into foster care at a disproportionate rate; being sent to prison at higher rates; unequal access to quality education that leaves too many children behind; inequities in housing, health care, employment; fear of the very people authorized to protect them.
If we don't actively address a system with a history of injustices, we perpetuate its wrongs.
Therefore, in 2020 and 2021, the GBA CAPC Coalition will work to examine and reform the systems that have oppressed Black and Brown individuals in our country and in our community.
Toward this end, we are embarking on a year-long project to engage stakeholders in a conversation about disproportionality in child abuse reporting and the system's response to a report.
In addition, as individuals and within our home agencies, here are some of the concrete actions that we will take:
Ask ourselves and each other difficult questions about race and equality.
Learn about race, racism, and racial oppression in our country, and have discussions about these issues with the young people in our lives. 
Listen to the voices of people with direct and diverse experiences. 
Change the behaviors in ourselves, our agencies, and society that cause harm and perpetuate racism.
Together, we must bridge this untenable divide by confronting racism and racial disparities. We continue to be humbled and grateful for the work you all are doing to support each other and those you serve during this incredibly challenging time. We look forward to working with you in 2020 and beyond.
---
For over 30 years Child Abuse Prevention Councils have led the way in the effort to prevent child abuse and neglect in every county in California.
The Greater Bay Area Child Abuse Prevention Council Coalition represents ten counties coordinating resources, advocating for public policy, producing conferences, and sharing best practices.
---
---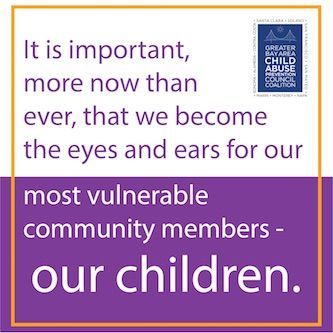 The dramatically increased degree of isolation and disconnection created by the pandemic creates increased risk for already stressed and vulnerable families. Stay aware and report any suspicion of child abuse or domestic violence to law enforcement or child protective services.
Only weeks ago a US Supreme Court ruling made it possible for the current administration to move forward with a restriction on public charge, the term used to refer to the necessary social services that may be accessed by immigrant families actively applying for permanent status, such as food, housing and medical care.
This restriction unduly targets new immigrants, creating greater risk factors such as homelessness, poor health and unsafe living conditions. All these factors significantly increase the risk of child abuse, neglect and poor child safety. This restriction will ensure crushing poverty, poor nutrition, poor health and increased homelessness among an already struggling population. It will also serve to erode the trust that is needed between families and social service providers.
Social workers, community organizations and schools have worked for many years to create a fabric of support services to assist the most vulnerable families among us. We believe it is important to understand the need to assist families at such a crucial time in their lives. 
We call upon members of the public to learn more about the impact of this decision on children, and to support child abuse prevention councils and other organizations working to create systems that support children and families and keep them safe. 
---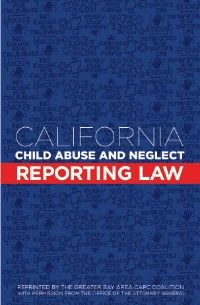 California Child Abuse and Neglect Reporting Laws
It is important for mandated reporters to keep updated on periodic amendments to the law. Visit California Legislative Information for updated information on the law and any other code section referenced in this material.
The California Child Abuse and Neglect Reporting Law is currently found in Penal Code (P.C.) Sections 11164 - 11174.3. This pamphlet contains only a partial description of the law. Mandated reporters should become familiar with the detailed requirements as they are set forth in the Penal Code.
Mandated Reporter pamphlet in Spanish.
---