For over 30 years Child Abuse Prevention Councils have led the way in the effort to prevent child abuse and neglect in every county in California. The Greater Bay Area Child Abuse Prevention Council Coalition represents ten counties coordinating resources, advocating for public policy, producing conferences, and sharing best practices.
---

Watch the recording: "Strengthening Families Using a Racial Equity Lens"
Hear from Dr. Jessica Pryce on how child welfare professionals can collaborate with families to enhance their capacity to protect their own children, with a focus on family engagement as a key strategy.
Building relationships with families who come into our system takes a level of self and cultural awareness, understanding and trust. Data shows that families of color are disproportionately represented in the foster care system, and experience poorer outcomes. This virtual training will provide some historical context associated with child welfare and the standards that our society upholds regarding parenting. It will include a discussion of types of racism and how they are at play in our global child welfare infrastructure. Participants will be invited to envision a new system and to articulate their own role in addressing racial equity.
Watch the recording by clicking here or pasting the following link into your browser https://vimeo.com/648770823/1139f5c225
---
Past recorded events presented by the Greater Bay Area CAPC Coalition are listed below. These events can be requested by completing a registration form found here. (We appreciate you completing this form as it helps us report back to our funders.)
·       Ask the Expert with Donna Jackson Nakazawa: How Our Biographies Become Our Biologies
Conventional wisdom tells us what doesn't kill you makes you stronger. But the science tells us that, far more often, the opposite is true. This presentation will include groundbreaking information on how childhood adversity can lead to health problems later in life. Building on ACEs research, Donna Jackson Nakazawa answers questions related to how chronic stress can affect our brains, behavior – and even our immune systems.
·       Fostering a Future with Anthony Trucks
At the age of three, Anthony Trucks was placed into the foster care system. For years, he spent every day in survival mode, just trying to make it to the next day, week, and year in one piece. Join us as Anthony explains how he made the shift into his ideal identity and how he overcame his hardships.
·       Helping Everyone Every Time with Dr. Elizabeth Vermilyea
Join Elizabeth G. Vermilyea, Ph.D., a revolutionary leader of trauma-informed program development, as she explains how we can help everyone every time by implementing a trauma-informed approach to all aspects of care. Dr. Vermilyea will discuss how to help people recover from traumatic experiences through RICH relationships: Respect, Information, Collection, & Hope.
·       Leadership for the Greater Good with Azim Khamisa
To address society's most daunting challenges, today's leaders need competency in three areas: 1) to be brilliant in their professions 2) to work to create effective, viable, and affordable solutions to societal ills 3) have strong moral, ethical, and spiritual values. This triad of competencies is critical to tackling the current degradation and divisiveness of society. It is Khamisa's hope that the emerging and existing leaders will be inspired to emulate these competencies and help move us to a world that is inclusive, compassionate, and one that works for everyone.
·       No Such Thing As A Bad Kid: Understanding and Responding to Kids with Emotional and Behavioral Challenges Using a Positive, Trauma-Informed, Strength-Based Approach with Charlie Appelstein
Charlie Appelstein, M.S.W. is a nationally prominent youth care specialist and author whose primary focus is on teaching positive, strength-based theories and techniques to professionals who guide at-risk children and youth. In this lively and entertaining webinar, he discusses strength-based communication principles and techniques to support and build self-esteem in kids with emotional and behavioral challenges.
·       Parenting Under Pressure: Strength-Based Strategies for Responding Instead of Reacting to Your Kids During Times of Stress with Charlie Appelstein
During times of inordinate stress, it is challenging, but extremely beneficial, for parents to remain positive and respond to their kids with respect and compassion. Parenting Under Pressure, presented by Charlie Appelstein, highlights the benefits of using a positive, strength-based parenting approach. This training outlines proven strategies for helping parents deal with the difficult feelings they are experiencing and teaches how to respond instead of reacting when tensions are high.
·       Positivity in Times of Stress: Understanding and Responding to At-Risk Kids and Families Using a Positive, Trauma-Informed, Strength-Based Approach with Charlie Appelstein
An engaging, informative, and humorous speaker, Charlie Appelstein is the author of three critically acclaimed books on youth care and the creator of two innovative CDs that helps kids and parents make better choices and lead happier lives. Charlie's strength-based approach delivers a message of hope and possibility to our most vulnerable youth and those who shape and influence their lives.
·       Protecting Children: During and Beyond COVID-19 with Erin Runnion
Erin Runnion is a national advocate for children and the Director of The Joyful Child Foundation, in memory of her daughter, Samantha Runnion, who was abducted and murdered days before her sixth birthday in July 2002.  Although inspired by a tragedy, Erin shares her unique perspective about the power of hope, resiliency, and joy to address the spectrum  and impact of childhood trauma.
·       Rediscovering the Beauty Within with Sasha Joseph Neulinger
In this presentation, Sasha Joseph Neulinger uses photos, childhood drawings, home video and archival news footage to tell his story from child victim to adult survivor. Covering the abuse he experienced, the family dynamics (before, during and after the abuse), his experiences during the prosecution process, and how he got to where he currently is today, "Rediscovering the Beauty Within" is as educational as it is inspirational. In April 2019, Sasha's autobiographical, feature length documentary, "REWIND," had its US Television Premiere on May 11, as part of PBS' independent Lens Lineup, where the film reached 280 million households nationwide. 
·       Resilience, Healing and Relational Repair: Transforming the Impact of Interpersonal and Sociocultural Trauma on Young Children and Families with Dr. Vilma Reyes
In this webinar, Dr. Vilma Reyes explores ways to apply trauma-informed, relationship-based interventions, and tap into resilience to promote healing and relational repair in families. Strengthening resilience affects every domain in children's development, family relationships, and health outcomes.  Dr. Reyes will present real tools to help families recover from trauma, forced family separation, institutional racism, and toxic fear in support of the well-being of young children and their families.
Dr. Reyes is an Assistant Clinical Professor at the University of California, San Francisco in the Child Trauma Research Program. Since 2009, she has been providing Child-Parent Psychotherapy (CPP) services, training, clinical supervision, consultation and coordinating community-based mental health outreach services and evaluation. She is a national trainer in CPP and has co-authored articles and chapters on CPP theory and application.
---
Confronting Inequality Together
The Greater Bay Area Child Abuse Prevention Council (GBA CAPC) Coalition is committed to being an accountable and supportive ally in systematically eliminating structural racism and inequities faced by children and families in our region. 
We recognize the traumatic effects of racism on Black families; it is real and cannot be ignored. We want to state now, unequivocally, that Black Lives Matter and Black Trauma Matters.
As parents and community members, we grieve for the mothers and fathers who have mourned the unjust deaths of their Black and Brown children, young and grown. As we grieve as a nation, we must confront that the very systems we helped build and operate have enabled — and far too often exacerbated — structural inequities.
In 2020, in addition to the COVID-19 pandemic, families are facing the closing of child-care facilities and businesses, resulting in the loss of support and income. More urgently than ever, our families need us to help them stay safe and grow strong. Whatever circumstances bring parents and caregivers through our doors, we vow to recognize their inherent strengths and help them overcome the challenges they face.
We must now confront the systems we have created that yield the inequality we are seeing — from education to child welfare; from health care to our justice system; from housing to the economy. We must talk about the disparities that children of color face: being removed from their families and placed into foster care at a disproportionate rate; being sent to prison at higher rates; unequal access to quality education that leaves too many children behind; inequities in housing, health care, employment; fear of the very people authorized to protect them.
If we don't actively address a system with a history of injustices, we perpetuate its wrongs.
Therefore, in 2020 and 2021, the GBA CAPC Coalition will work to examine and reform the systems that have oppressed Black and Brown individuals in our country and in our community.
Toward this end, we are embarking on a year-long project to engage stakeholders in a conversation about disproportionality in child abuse reporting and the system's response to a report.
In addition, as individuals and within our home agencies, here are some of the concrete actions that we will take:
Ask ourselves and each other difficult questions about race and equality.
Learn about race, racism, and racial oppression in our country, and have discussions about these issues with the young people in our lives. 
Listen to the voices of people with direct and diverse experiences. 
Change the behaviors in ourselves, our agencies, and society that cause harm and perpetuate racism.
Together, we must bridge this untenable divide by confronting racism and racial disparities. We continue to be humbled and grateful for the work you all are doing to support each other and those you serve during this incredibly challenging time. We look forward to working with you in 2020 and beyond.
---
---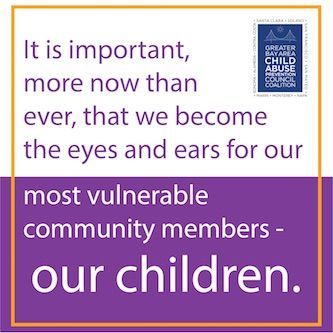 The dramatically increased degree of isolation and disconnection created by the pandemic creates increased risk for already stressed and vulnerable families. Stay aware and report any suspicion of child abuse or domestic violence to law enforcement or child protective services.
Only weeks ago a US Supreme Court ruling made it possible for the current administration to move forward with a restriction on public charge, the term used to refer to the necessary social services that may be accessed by immigrant families actively applying for permanent status, such as food, housing and medical care.
This restriction unduly targets new immigrants, creating greater risk factors such as homelessness, poor health and unsafe living conditions. All these factors significantly increase the risk of child abuse, neglect and poor child safety. This restriction will ensure crushing poverty, poor nutrition, poor health and increased homelessness among an already struggling population. It will also serve to erode the trust that is needed between families and social service providers.
Social workers, community organizations and schools have worked for many years to create a fabric of support services to assist the most vulnerable families among us. We believe it is important to understand the need to assist families at such a crucial time in their lives. 
We call upon members of the public to learn more about the impact of this decision on children, and to support child abuse prevention councils and other organizations working to create systems that support children and families and keep them safe. 
---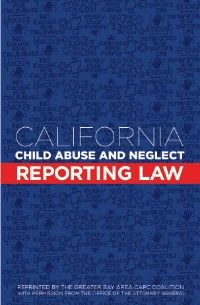 California Child Abuse and Neglect Reporting Laws
It is important for mandated reporters to keep updated on periodic amendments to the law. Visit California Legislative Information for updated information on the law and any other code section referenced in this material.
The California Child Abuse and Neglect Reporting Law is currently found in Penal Code (P.C.) Sections 11164 - 11174.3. This pamphlet contains only a partial description of the law. Mandated reporters should become familiar with the detailed requirements as they are set forth in the Penal Code.
Mandated Reporter pamphlet in Spanish.
---