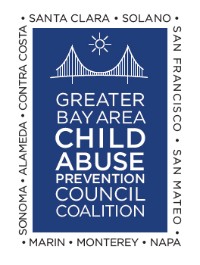 For over 30 years Child Abuse Prevention Councils have led the way in the effort to prevent child abuse and neglect in every county in California. The Greater Bay Area Child Abuse Prevention Council Coalition represents ten counties coordinating resources, advocating for public policy, producing conferences, and sharing best practices.
The Child Abuse Prevention Councils throughout the Greater Bay Area work to support parents and families.
---
We Agree with the Grand Jury: Our Response to the Pennsylvania Child Abuse Investigations

The recent report by the Attorney General of Pennsylvania Josh Shapiro tells us that the Catholic church systematically looked the other way at child sexual abuse by its own clergy and they did it for decades. It says priests gave the children gold crosses as necklaces to mark them as being "groomed" for abuse.

The report describes the church operating behind what is called a "circle of secrecy", relying on euphemisms such as "inappropriate contact" rather than the word rape. Most flagrantly, the church has relied on a pattern of non-disclosure and non-cooperation: not making police reports, withholding evidence, and delaying required reports.

This scandal reminds us of the hard fact that sex offenders can be found in any profession, in any faith, in any organization. We must be wary of our children's environment and the adults they interact with. Child abuse prevention agencies, social workers and psychologists know the strategies and policies that keep our kids safe. As parents and concerned citizens it is our responsibility to seek those answers and put them into practice to prevent the abuse of children.

We must rely on the laws of our states and our country to attack this problem. We cannot accept a blatant disregard for laws in favor of canon law. By sweeping this under the rug, the church has in fact perpetuated and encouraged the sexual abuse of children.

The first recommendation of the Pennsylvania grand jury is to eliminate all criminal statues of limitation on child sexual abuse. We agree with the grand jury. Clearly, sex offenders who avoid criminal prosecution by statues of limitation have literally gamed the system and gotten away with it.

Mr. Shapiro and the Pennsylvania grand jury have dealt a body blow to parents and well meaning Catholics everywhere. It is time to step up and do what we can to end this thoroughly preventable problem. The Child Abuse Prevention Councils that make up the Greater Bay Area Coalition provide proven strategies, programs and services that work to protect children from maltreatment at home, at school and on the playing fields. The Pennsylvania report imparts a great lesson - we must do more. It is time to make the necessary changes in our legal system to protect children and ensure them justice in our courts. We need to end the criminal statues of limitation for child sexual abuse and we need to do it now.

The Greater Bay Area Child Abuse Prevention Council Coalition

It is Child Abuse, Not Immigration Policy: Our Response to the Separation of Children at the Border

The systemic separation of children from their families is government sanctioned child abuse. We add our voices to the other Americans who are outraged at these actions.

The American Academy of Pediatrics (AAP) has affirmed that separating families at the border is a form of child abuse. This kind of stress, particularly in small children, can "disrupt the neurological connections that are part of the developing brain" according to Dr. Colleen Kraft.

Every child deserves the comfort and security of their parents. Children should be able to rely on their parents' nurturing protection.

While encouraged by the executive order halting family separations, we are concerned for the 2,300 children yet to be reunited. We urge Congress and the Administration to end family separation permanently as a part of immigration policy.

The Greater Bay Area Child Abuse Prevention Council Coalition
David Maradei, Chair
www.bayareapreventchildabuse.org
---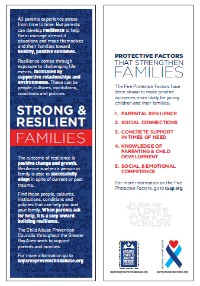 PROTECTIVE FACTORS THAT STRENGTHEN FAMILIES
The Five Protective Factors have been shown to make positive outcomes more likely for young children and their families:
1.        Parental Resilience
2.        Social Connections
3.        Concrete Support in Times of Need
4.        Knowledge of Parenting and Child Development
5.        Social and Emotional Competence
Please contact us to receive educational materials for your events.
---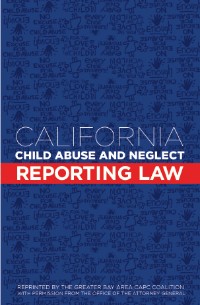 CALIFORNIA CHILD ABUSE AND NEGLECT REPORTING LAW
It is important for mandated reporters to keep updated on periodic amendments to the law. Visit leginfoca.gov for updated information on the law and any other code section referenced in this material.
The California Child Abuse and Neglect Reporting Law is currently found in Penal Code (P.C.) Sections 11164 - 11174.3. The following is only a partial description of the law. Mandated reporters should become familiar with the detailed requirements as they are set forth in the Penal Code.
---
RESILIENCE
All parents experience stress from time to time. But parents can develop resilience to help them manage stressful situations and move themselves and their families toward healthy, positive outcomes.
Resilience comes through exposure to challenging life events, facilitated by supportive relationships and environments. These can be people, cultures, institutions, conditions and policies.
The outcome of resilience is positive change and growth. Resilience is when a person or family is able to successfully adapt in spite of current or past trauma.
Find those people, cultures, institutions, conditions and policies that can help you and your family. When parents ask for help, it is a step toward building resilience.
---