Child Abuse Prevention Councils join GBA Coalition for statewide convening
The Greater Bay Area Child Abuse Prevention Council Coalition was honored to host The Importance of Relationships: Statewide Convening of Child Abuse Prevention Councils on October 17, 2019 in Vallejo. Child Abuse Prevention Councils gathered from across the state to network, share resources, and enjoy a keynote presentation from Laura Porter of ACE Interface, LLC.
We are grateful for support from Kaiser Permanente, Resilient Napa – a collaborative project of Cope Family Center, Solano Children's Alliance and Child Abuse Prevention Council, CASA Solano County-Court Appointed Special Advocates for Children, and Jelly Belly. We are also grateful to those who traveled for the event!

---
In our country today, children of asylum seekers continue to be needlessly separated from their parents and subjected to Adverse Childhood Experiences (ACEs) and daily neglect. The health of these small children is at risk and their futures are threatened from their long dangerous journey. Their health is threatened again when they are greeted with cruel separations and lack of services. Read our letter to the editor on this issue here.

Read our letter regarding separation of children at the border.

This tip sheet, Coping with Immigration & the Family, was produced by Sonoma County GBA CAPC member Child Parent Institute. It helps parents understand children's reactions to the fear of separation due to immigration and provides some suggestions to help manage behaviors and emotions, for seeking community support, and for creating a family plan.

See CPI's website at http://calparents.org for more great resources.

This is a Spanish-language version of the tip sheet produced by Child Parent Institute.
---
THANK YOU TO OUR OUTGOING PRESIDENT, DAVID MARADEI
The Greater Bay Area Child Abuse Prevention Council Coalition would like to thank our outgoing President, David Maradei of Monterey County. David has led the coalition with dedication, efficiency, and good humor and we appreciate his leadership over the years.
Our incoming President will be Michele Grupe of Napa County. Welcome Michele!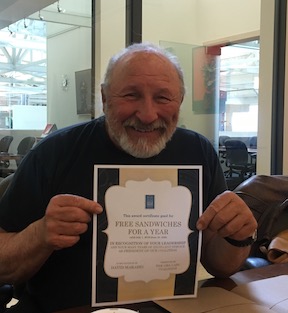 ---
The Greater Bay Area Child Abuse Prevention Council Coalition's theme for 2019 is
I AM LISTENING,
because it's time to hear what victims have to say.
I am listening and I will do my part
How to listen:
1. STAY CALM
Control expressions of shock or disbelief. A child needs to know that you are strong enough to hear what they have to say.
2. BELIEVE
Express your belief that the child is telling the truth. A child may have kept the abuse a secret in fear of not being believed.
3. REASSURE
Acknowledge the child's courage and that they are not to blame for what happened.  
4. NO BLAME
Don't speak negatively. The person harming the child may be a family member or someone they know or love.
5. EXPLAIN
Let a child know what you will do next to help keep them safe.
6. REPORT
Report any suspicion of child abuse to local law enforcement or Child Protective Services, or to 1.800.4.A.CHILD (24/7).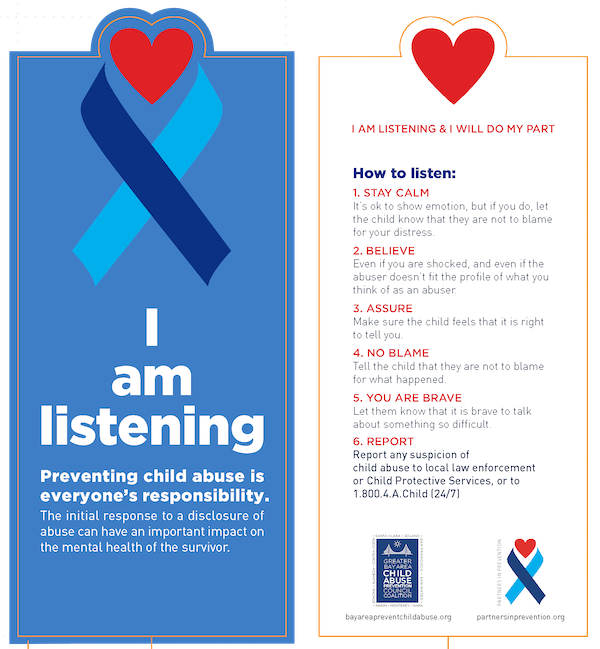 ---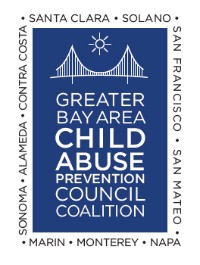 For over 30 years Child Abuse Prevention Councils have led the way in the effort to prevent child abuse and neglect in every county in California. The Greater Bay Area Child Abuse Prevention Council Coalition represents ten counties coordinating resources, advocating for public policy, producing conferences, and sharing best practices.
---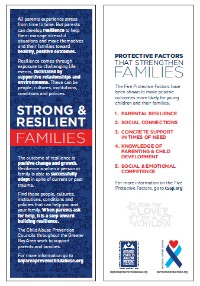 PROTECTIVE FACTORS THAT STRENGTHEN FAMILIES
The Five Protective Factors have been shown to make positive outcomes more likely for young children and their families:
1.        Parental Resilience
2.        Social Connections
3.        Concrete Support in Times of Need
4.        Knowledge of Parenting and Child Development
5.        Social and Emotional Competence
Please contact us to receive educational materials for your events.
---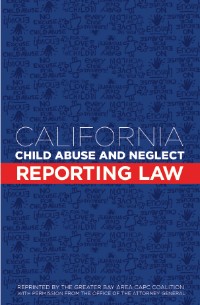 CALIFORNIA CHILD ABUSE AND NEGLECT REPORTING LAW
It is important for mandated reporters to keep updated on periodic amendments to the law. Visit leginfoca.gov for updated information on the law and any other code section referenced in this material.
The California Child Abuse and Neglect Reporting Law is currently found in Penal Code (P.C.) Sections 11164 - 11174.3. The following is only a partial description of the law. Mandated reporters should become familiar with the detailed requirements as they are set forth in the Penal Code.
Mandated Reporter pamphlet in Spanish.
---
RESILIENCE
All parents experience stress from time to time. But parents can develop resilience to help them manage stressful situations and move themselves and their families toward healthy, positive outcomes.
Resilience comes through exposure to challenging life events, facilitated by supportive relationships and environments. These can be people, cultures, institutions, conditions and policies.
The outcome of resilience is positive change and growth. Resilience is when a person or family is able to successfully adapt in spite of current or past trauma.
Find those people, cultures, institutions, conditions and policies that can help you and your family. When parents ask for help, it is a step toward building resilience.
---
---