Leadership for the Greater Good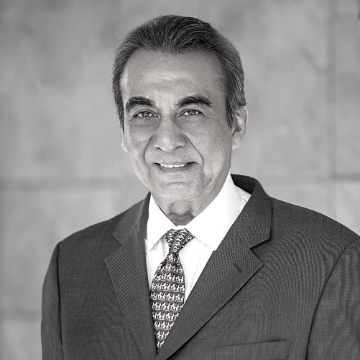 In this talk, Azim Khamisa calls for a new kind of leader — a satyagrahi leader — to fol­low in the footsteps of some of the world's most inspiring role models. Building on Mahatma Gandhi's practice of satyagraha, a method of using passive resistance to spark political and social change, satyagrahi leaders balance their ambition with their spirit and use their skills to benefit the larger community. To address society's most daunting challenges, today's leaders need competency in three areas:
-   to be brilliant in their professions
-   to work to create effective, viable, and affordable solutions to societal ills
-   have strong moral, ethical, and spiritual values
This triad of competencies is critical to tackling the current degradation and divisiveness of society. It is Khamisa's hope that the emerging and existing leaders will be inspired to emulate these competencies and help move us to a world that is inclusive, compassionate, and one that works for everyone.
About Azim Khamisa
Following the murder of his son in 1995, Azim Khamisa founded the Tariq Khamisa Foundation (TKF.org), which started a subsequent forgiveness movement that has reached millions.
Committing his life to halt the continuing cycle of violence among youth, Azim became a social activist after his 20-year-old college student son Tariq was senselessly murdered while delivering pizzas in January 1995 by Tony Hicks, a 14-year-old gang member. Out of unspeakable grief and despair, Khamisa was inspired to transform his loss through the miraculous power of forgiveness. Believing that there were "victims at both ends of the gun," Azim forgave Tony and founded the Tariq Khamisa Foundation to break the cycle of youth violence by saving lives, empowering positive choices, and teaching the principles of nonviolence and peacemaking. Soon after establishing the foundation, Azim invited Ples Felix, Tony's grandfather, and guardian, to join him. Together, since November 1995, the two have shared their story and message through TKF's Peacemaker Assemblies and other programs. The duo has reached over a million elementary and middle school children and several million via video programs, guiding the youth to choose a peacemaker's life of nonviolence and forgiveness. Tony Hicks, now 39, was released in April of 2020. Azim was at Tony's parole hearing in November of 2018 with his daughter Tasreen Khamisa (ED of TKF) and both strongly advocated for his release. Tony won parole at this hearing, was finally released in October of 2019, and now volunteers for TKF as a strong advocate for youth to not follow in his former footsteps. He uses his personal story of transformation, after receiving Azim's forgiveness and learning to forgive himself, to inspire youth to choose a life of nonviolence and peacebuilding.
With a strong passion to share his message with the youth and to inspire nonviolent leaders to become proactive as peacebuilders, Azim has given over 1,000 presentations to over a million students worldwide. He is a published author of five books: Award-winning Murder to Forgiveness (being made into a feature film); From Forgiveness to Fulfillment, From Fulfillment to Peace, and The Secrets of the Bulletproof Spirit: How to bounce back from life's hardest hits co-authored with Jillian Quinn. His fifth book, Leadership for the greater good – A guide for truth to power champions , was recently released in May 2020. He has been featured countless times in local, national, and international media. In November 2018, Azim spoke for the TEDWomen conference that has been viewed by over 1 million viewers: go.TED.com/azimandples.
Azim was born in Kenya of Eastern roots and educated in England in mathematics and finance and has over 45 plus experience in international finance. Azim lives in La Jolla, California and is the proud father of daughter Tasreen and grandfather of Shahin, Khalil, and Miya
For more information on Azim, please visit www.AzimKhamisa.com