2017 Blue Ribbon Training and Luncheon

Thursday, April 27, 2017
Hilton Sonoma Wine Country
3555 Round Barn Blvd, Santa Rosa
8:30-11:00am Training   /   

11:30am-1:30pm Luncheon
Prevent Child Abuse - Sonoma County (PCA-SC) is hosting our annual Blue Ribbon Training and Luncheon. This is an exciting learning and networking opportunity for professionals working in health, social services, criminal justice, or human resources, public officials, educators, community leaders, family members, caregivers, and anyone interested in learning more about child abuse prevention, treatment, and recovery.
8:30-11:00am TRAINING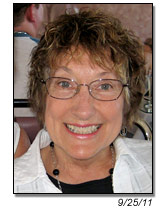 Resiliency 101: From Victim to Survivor
Presented by Julie Brand, MS
Some victims of childhood abuse perpetuate 

the cycle of violence. Some victims self destruct. Yet others become safe, nur

turing, emotionally healthy adults. 

How can we influence which path they will choose?

 

This program identifies seven key steps that can help victims to overcome trauma and to develop a "survivor's perspective."
Attendees will learn how to use the "language of resiliency" to identify and to reinforce victims' strengths thereby positively impacting both their self-perceptions and their life scripts. Participants will learn how to foster resiliency in their clients' lives and also in their own. 

The presenter is both an experienced counselor and a resilient survivor of maternal sexual abuse.
11:30am-1:30pm LUNCHEON & AWARD CEREMONY
Keynote: What Can Child Abuse and Neglect Prevention Look Like?
Presented by  Judge Patricia Martin
The strate
gy historically employed in the area of child welfare is geared toward how to identify at risk children and to remove those children before a tragedy occurs. What would the system look like if the focus was shifte
d from a reactive approach to a proactive approach? What would become of our vulnerable children and families if the child welfare system were more holistic? Can we create a more holistic system that not only utilizes the expertise of social workers, but encompasses the disciplines necessary to bring about healing and shielding from further harm?
This sessi
on offers a glimpse into the workings of the Presidential Commission to Eliminate Child Abuse and Neglect Fatalities (CECANF), including the mission of the CECANF, the process adopted for fact finding, some 
of th
e major findings, and the emerging methods to support children and families in need of intervention. 
The session will end with a guide designed to break the cycle of child abuse and neglect. Come and learn how we can work together to shift from responding to abuse to an evidence-based practice geared toward preventing child abuse and neglect.
Judge Patricia Martin is Presiding Judge of the Child Protection Division of the Circuit Court of Cook County, Illinois, a position she has held since 2000. She has introduced innovative programs that have received media attention and that jurisdictions across the country have duplicated. During her tenure as Presiding Judge, the Child Protection Division's caseload has declined from over 27,000 cases to fewer than 7,000 cases, a reduction of over 56%. Martin was also appointed to President Obama's Commission to Eliminate Child Abuse and Neglect Fatalities.