Careers
As one of the North Bay Business Journal's Best Places to Work, CPI is a great place to build your skill set and advance your career in social work, child welfare, and mental health services. 
When you work for the North Bay's leading nonprofit on parenting and children's mental health, balancing work and family doesn't feel like a solo act.  At Child Parent Institute, we value the health and well-being of our staff, which is why we provide a generous benefits package and every employee has access to free parenting classes.   Many of our positions allow for flexible work schedules. We believe in supporting our team's professional development goals and many of our entry-level positions offer opportunities for advancement. If you're passionate about helping families, browse our openings or upload your resume and tell us your interests.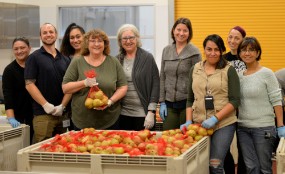 CPI Service Day 2018
Positions Available
Therapists provide individual and group services and coordinate case management activities in a school setting. Weekly art therapy supervision is provided by an ATR-BC. This is a full-time, school-year position with full benefits.

Therapists provide individual, family, and group behavioral health services in our Children's Counseling Clinic. This is a full-time position (30-40 hours/week) with full benefits.

The Deputy Director reports to the Executive Director and supervises all program managers. This executive level position is responsible for creating, executing, and continuously evaluating a comprehensive strategy that ensures the quality, efficiency, and consistency of all CPI programs. The Deputy Director is a member of the executive leadership team and works closely with the Executive Director, the Fiscal Manager, and Human Resources.

The PMD Therapist provides case management and in-home therapy for women at risk for or experiencing PMD. This is a part-time position (20 hours per week) with benefits.