Annual Blue Ribbon Training
Thursday, April 27, 2017
Hilton Sonoma Wine Country
3555 Round Barn Blvd, Santa Rosa
Attend "Resiliency 101: From Victim to Survivor" with Julie Brand. This item does not include the Awards Ceremony and Luncheon.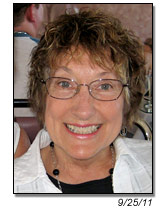 Resiliency 101: From Victim to Survivor
Presented by Julie Brand, MS
Some victims of childhood abuse perpetuate 

the cycle of violence. Some victims self destruct. Yet others become safe, nur

turing, emotionally healthy adults. 

How can we influence which path they will choose?

 

This program identifies seven key steps that can help victims to overcome trauma and to develop a "survivor's perspective."
Attendees will learn how to use the "language of resiliency" to identify and to reinforce victims' strengths thereby positively impacting both their self-perceptions and their life scripts. Participants will learn how to foster resiliency in their clients' lives and also in their own. 

The presenter is both an experienced counselor and a resilient survivor of maternal sexual abuse.
$35.00